It's with great pleasure to announce that 'We Dream of Blue Whales', the triptych charting my journey on the Sea Dragon from Iceland to Sweden, will be migrating to dark Northern waters for a month. It will be showing at Left Bank Leeds in a new exhibition focussing on whales: 'Here be Whales' in association with Hull Maritime Museum and the universities of Leeds and York.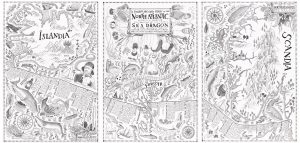 The show has been curated by Martha Cattell, Hondartza Fraga and Sophia Nicolov and the exhibition publicity states that the aim is to bring together:
'… a number of artists who explore and question the authenticity of whale representations. It reflects, in ethical terms, material and cultural methods and how these are challenged, not only by whales' damaged past, but also by their threatened present and speculative future…Considering the past and current 'traditions' and multiplicity of whale depictions, this exhibition seeks to offer alternative ways to interrogate the process of myth-making and animal.'
There's a wide range of media on show across two sites (also at Hull Maritime Museum), ranging from drawings to textiles, scuplture, collage, photography, video and installation. Inspiration has been drawn from multiple sources – from historical whaling and contemporary whale strandings to the lashing white tail of the fictional Moby Dick – highlighting how culturally interwoven human and whalelife has always been. The artists, an all female line-up, have taken their experiences from around the world, chasing the whale and the men who have hunted them. Connections are woven between rocky Husavik in Iceland with the damp grey of the British coast and the rusting shells of old whaling units in Canada…
More about the show (and the sister show at Hull Maritime Museum) plus information about the artists can be found here.
Exhibition: Here Be Whales
Artists: Helen Cann; Martha Cattell; Angela Cockayne; Filippa Dobson; Hondartza Fraga; Caroline Hack; Sophia Nicolov; Marina Rees; Kathy Prendergast
Gallery: Left Bank Leeds
Address: Cardigan Rd, Leeds LS6 1LJ
Website: leftbankleeds.org.uk
Dates: 4th Feb – 29th March
Visiting hours: Mondays and Wednesdays 10-4pm
Opening Night: Wednesday 6th February, 6-8pm
Curators Talk: Wednesday 27th March at 6pm, followed by a screening of the movie Whale Rider (2002)
Free entry to the exhibition, costs may apply to related events.